NEVADA BIGHORNS UNLIMITED
To protect and enhance Nevada's wildlife resources for sportsmen, outdoor and wildlife enthusiasts, and future generations.  NBU volunteers do this through the reintroduction of big game, habitat conservation and improvement, public education and participation, biological and scientific research, and the influence of public policy.
Support NBU in its mission to promote and enhance increasing populations of wildlife in Nevada, to fund programs for professional management and habitat improvements, and to protect the heritage of sportsmen and hunters by becoming a member, volunteering time, donating items for auctions, shopping NBU, attending the annual banquet, or through a planned giving program.
Before the turn of the 20th century Bighorn sheep were Nevada's most numerous big game animals occupying every single mountain range in the state. By 1900 however, Desert Bighorn populations had been drastically reduced while Rocky Mountain and California Bighorn had become essentially extinct in the state.
NBU's mission is to promote and enhance increasing populations of wildlife in Nevada, and to fund programs for wildlife management and habitat improvements was born out of the desire to put back what was lost.
At this time bighorn sheep have been reintroduced into over 60 of the 300+ mountain ranges in Nevada. Nevada's wild sheep population is now second only to Alaska. For the first time in modern history, the state is opening up new management areas for hunting each year. Through our efforts to create a balanced and healthy wildlife population in Nevada and beyond, generations of hunters and non-hunters alike will benefit for years to come.
NBU's mission is to promote and enhance increasing populations of wildlife in Nevada, to fund programs for wildlife movement and habitat improvements, and to protect the heritage of sportsmen and hunters. The organization is led by a rotating group of 18 volunteer Board Members dedicated to making a difference in Nevada's natural habitat. The membership is made of primarily hunters, who are also conservationists, outdoorsmen and wildlife lovers of all ages. NBU-Reno is striving to protect wildlife, habitat, and hunting rights with game reintroduction programs, conservation activities, education, scientific research, legislative action, cooperation with other organization and honest hands-on labor. Since its beginning, NBU-Reno has grown into one of the most successful and respected, action-oriented non-profit organizations in the nation with a growing membership base of well over 3500. NBU-Reno is an organization concerned with the conservation and management of not only Bighorn Sheep, but all of Nevada's wildlife.
Many persons are not aware of the problems that can arise when there is contact between wild and domestic sheep. Bighorn sheep are highly susceptible to some bacteria carried by domestic sheep. While domestic sheep are immune to strains carried by bighorn sheep. NBU has funded numerous Research Studies in such universities as University of California Davis, Washington State, and Idaho State in an attempt to solve this problem, which seriously limits areas suitable for bighorn reintroduction.
All of the California bighorns transplanted into the United States had their origin in British Columbia. When populations in the Kamloops area slumped, NBU funded multi-year migration route and area use studies through local British Columbia sportsmen groups to identify limiting factors to viable sheep populations
Long before public perception identified declining sage grouse populations as an indication of declining rangeland health, NBU was funding sage grouse research programs on the Sheldon National Antelope Refuge through Oregon State University and the U.S. Fish and Wildlife Services.
NBU partially funded habitat and forage utilization studies that allowed the expansion of the elk herd in the Jarbidge Wilderness of Northeastern Nevada. Important conclusions were drawn including the lack of impact of the resident elk herd on cattle grazing as well as the lack of competition between elk and mule deer in this mountain range.
In conjunction with our reseeding of range fire efforts, NBU has funded field trial research of improving seed germination success. Methods of encapsulating seeds with nutrient rich pellets will hopefully greatly improve the efficiency and success of reseeding operations.
The latest SPRING Journal 2023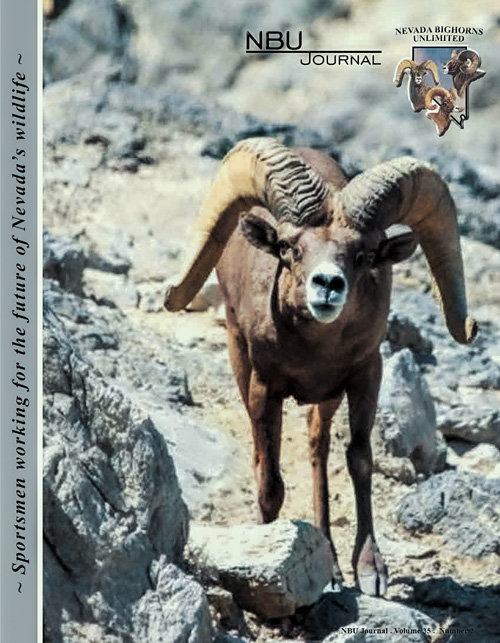 Policy White Paper from the NBU-Reno Board of Directors
Nevada Bighorns Unlimited – Legacy Scholarship Program
The NBU Legacy Scholarship Program was developed to honor those individuals that have contributed significant time and resources to NBU. The program was also developed to commemorate the accomplishments of NBU throughout our history. It's our goal as sportsmen and working professionals to leave a legacy of wildlife conservation for future generations.
The banquet and auction attract nearly 2000 hunting enthusiasts and wildlife lovers from all over North America. The funds generated from this event are what enable NBU to accomplish a significant part of its mission. Now more than ever, those who participate with NBU as a member, volunteer or with a donation, have a profound effect on the future of wildlife resources not only throughout Nevada but throughout the world as well.
Nevada Bighorns Unlimited Proposed Budget
Nevada Bighorns Unlimited IRS Tax Return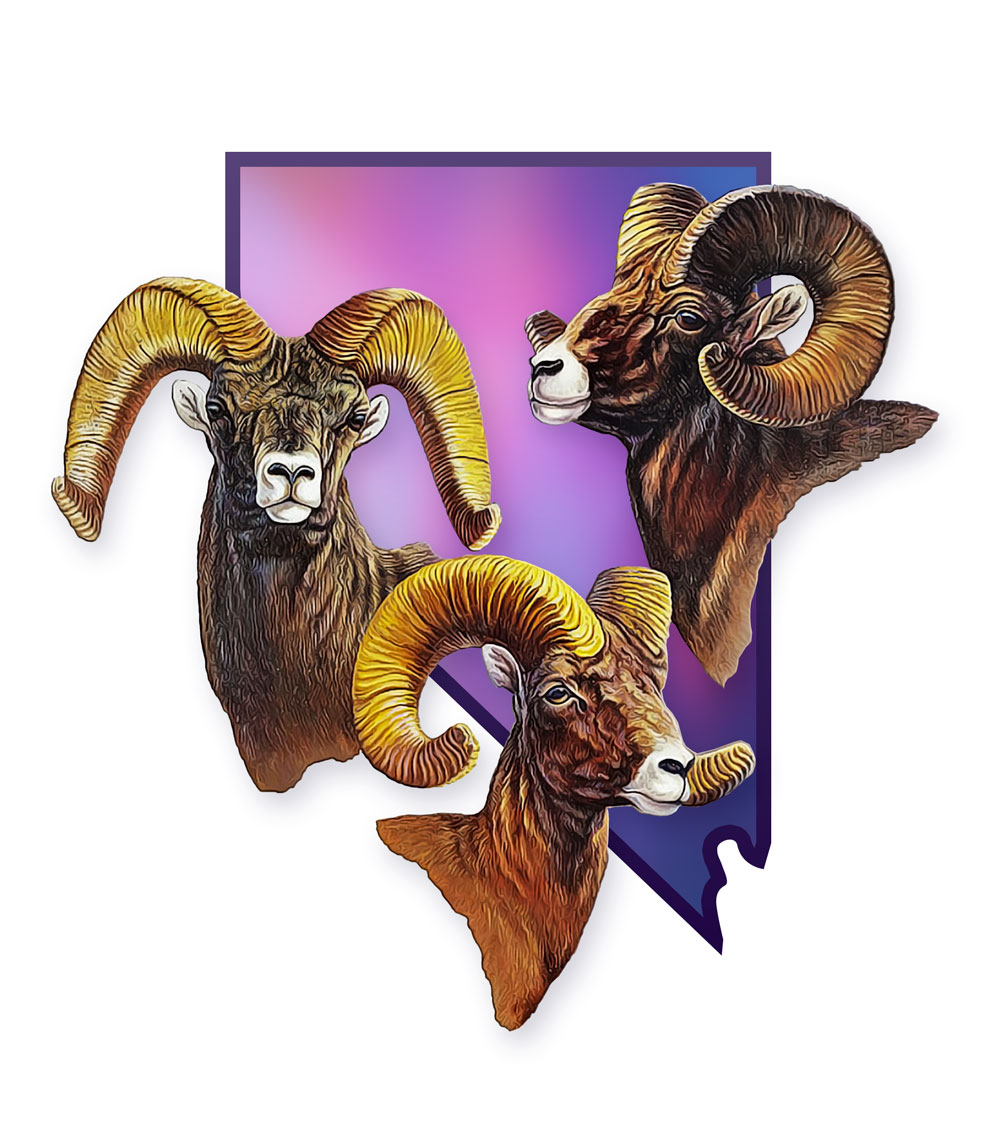 NBU strongly believes a well-informed public is vital to the protection and enhancement of our wildlife resources. It is particularly imperative to educate our youth of not only the value of wildlife but also the vital role of sportsmen in wildlife conservation. The following is but a sample of our contributions to this effort:
Jim Lathrop, Jr. Scholarships
Nevada Range Camp
NBU Quarterly Newsletter
Project Wild
Teachers Guide – The Wildlife Society – Nevada Chapter
Trout in the Classroom
Wild Outdoor World Magazine (in partnership with RMEF)
Nevada Outdoorsman Publication
AMAZING RESULTS
PLANNED GIVING
Nevada Bighorns Unlimited needs your help to continue the growth of our education and conservation programs for Nevada's wildlife. We have an increasing number of members of Nevada Bighorns Unlimited who are now benefiting from life income gifts, gift annuities, and other plans. Please show your support of Nevada Bighorns Unlimited and all of its many worthwhile programs by giving today.
Planned gifts benefit both the individual and Nevada Bighorns Unlimited. Through planned giving, individuals can achieve both income tax benefits as well as estate tax savings. Such a gift is usually the result of careful financial and/or estate planning, and is often combined with current gifts as part of an overall giving program.
Individual gifts can be structured in many ways. You can contribute through gifts of stock, real estate, or other personal assets. Our foundation directors are here to work with your needs and answer questions regarding contributions.
For more information on ways you can help, please call Randy Venturacci, NBU Foundation Director at (775) 826-5500 or email NBU at giving (at) nevadabighorns.org. (replace (at) with @.)
Yours very truly,
Randall L. Venturacci
NBU prides itself on its volunteer spirit and hands-on involvement. Because of these volunteer efforts, NBU is able to put over 90% of the revenue we generate back on the mountain. No other non-profit organization in the country can boast close to this percentage of success. Volunteers are the backbone of our organization.
Join our volunteer list and help out on an upcoming project.
With a Nevada Bighorns Unlimited License Plate
NBU's mission is to protect and enhance increasing populations of wildlife in Nevada, to fund programs for wildlife movement and habitat improvements, and to protect the heritage of sportsmen and hunters. NBU enhances wildlife in Nevada with various efforts all year long, including: You can help NBU increase and enhance wildlife in Nevada by purchasing one of their specialty license plates through the Nevada DMV. No need to spend hours standing in line, you can make a DMV appointment online today!
• Installation and maintenance of water guzzlers for all wildlife in Nevada
• Reseeding habitat after wildfires
• Wildlife-supporting legislative efforts
• Educational programs and scholarships for Nevada's youth
Get a $50 Scheel's Gift Card when you buy NBU plates!
Send proof of registration, your mailing address, and a copy of payment for your specialty DMV plate to nbulicenseplate@gmail.com and be mailed a gift card immediately! Proof can also be mailed to: P.O. Box 21393 Reno, Nevada 89515-1393
NBU Directors are key members of various councils, boards, and committees that set policy for management of our public lands. NBU commonly reviews and comments on Environmental Impact Statements and Land Management Plans in respect to wildlife issues. Our members are heavily involved in the following:
BLM Natural Wild Horse and Burro Advisory Board
Governor's Sage Grouse Committee
Eastern Nevada Landscape Coalition
Black Rock Desert
Immigrant Trail
High Rock Canyon Wilderness Planning Committee
Central Nevada Elk Planning Subcommittee NDOW Private Lands Subcommittee
We are strong supporters of grazing and multiple use of our public lands, but also strongly feel that wildlife resources have an equal right and priority.
NBU Directors recognized years ago the importance of legislative activities to protect sportsmen's rights and enhance wildlife resources. Our support of Elk Damage Compensation and Landowners Incentive Elk Tag legislation has paved the way for the rapid spread of elk populations across the state. We have supported Landowner deer and antelope damage compensation tags that practically ended depredation doe hunts statewide. We supported creation of a Department of Wildlife for a stronger more autonomous representation of sportsmen's issues. We will work until elk ranching is outlawed in Nevada. We have worked diligently to protect state jurisdiction of wildlife management in federal wilderness and to assure future hunting, fishing and trapping in these areas.
NBU supports Nevada's habitat with funding for a number of special restoration projects and with many volunteers donating hands-on labor for these projects. NBU's major habitat improvement programs take areas of poor quality and restore them to useable land, which benefits all types of wildlife, including man.
Reseeding
Range fires have devastated millions of acres of big game winter range and habitat over the years. Timely donations from NBU have aided in purchasing seed and private helicopter services to assist in the reseeding efforts of critical range areas literally saving the lives of hundreds, potentially thousands of animals.
Water Development
Water is often the limiting factor in the expansion of wildlife populations. NBU is involved with the U.S. Fish and Wildlife Service, Nevada Division of Wildlife, the U.S. Bureau of Land Management, and the Fraternity for the Desert Bighorn in all facets of planning, design, funding, and construction of water development projects. This allows for expansion of habitable ranges for all wildlife. Dozens of these water development systems known as "Guzzlers" have been completed in Nevada over the past couple of decades with great success.
Legislative Efforts
Over the past decade NBU has become more involved in legislative activities in order to further support the future of Nevada's wildlife. Through NBU's efforts, a number of important victories have been won in the legislature. Thanks to our efforts, Nevada proudly boasts the most strongly worded hunting, fishing and trapping rights laws in the nation.
NBU fully believes without educating our teachers and youth with the facts and merits of hunting, sportsmanship, wildlife management and conservation, the results of our other endeavors will be of little or no benefits to the future of wildlife in our state.
Jim Lathrop Memorial Scholarship Fund
The scholarship fund was created to pay for summer internships at the Nevada Division of Wildlife for selected Nevada high school graduates majoring in wildlife management. The objective is to assist and train the professional game manager of tomorrow.
Nevada Range Camp
Each summer the University of Nevada, Reno sponsors a week log training seminar for Nevada High School students that instruct youth on the fundamentals of range management, conservation, and wildlife issues.
Operation Game Thief
NBU helps to fund this program which uses mass media to promote hunter ethics, as well as posting rewards on poaching cases.
Access Signage
NBU promotes respect of private property by funding sportsmen access signage on private land corridors.
The Nature Library In Verdi, Nevada
NBU contributed to a nature exhibit at the new Nature Library in Verdi, Nevada. The library includes an exhibit hall and meeting rooms for the publics use and education.
MAISON T. ORTIZ YOUTH OUTDOOR SKILLS CAMP
This Camp is named in honor and memory of Maison T Ortiz, a 15 year old Galena high School student who tragically died in a snowboarding accident in January 2011. Maison was a fifth generation Nevadan. From his early years, he had an uncanny ability to connect with nature and all of its creatures, both big and small. He truly appreciated the outdoors and loved sharing all it had to offer with family and friends. He was representative of the best of sportsmen and hunters and epitomizes the very type of youth embraced by the sponsors of this event. It is his family's wish that deserving youths have the opportunity to develop similar passions as were enjoyed and exemplified by Maison.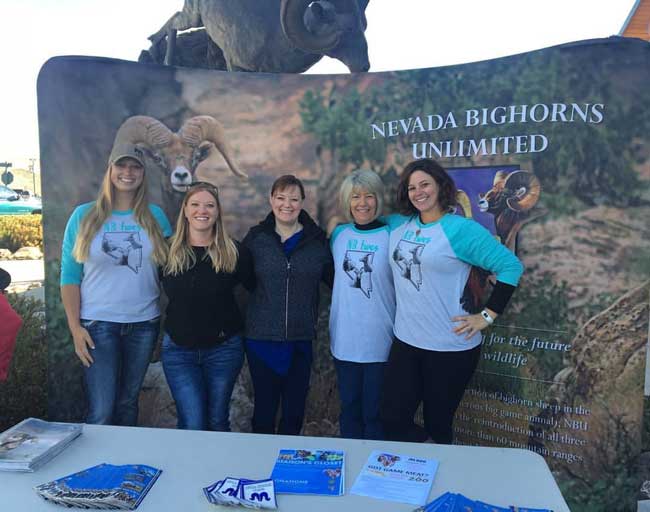 The NB Ewes serve as the philanthropic extension of Nevada Bighorns Unlimited (NBU) Reno and the members of NBU. We bring awareness to our community of the role that sportsmen and women play in wildlife conservation through educational and humanitarian projects. We provide a platform to give back to our community while highlighting the importance sportsmen and women play in this community. The Ewes also focus on encouraging women's involvement in hunting, fishing, and conservation. In close relation to the mission of NBU to "protect and enhance Nevada's wildlife resources for sportsmen, outdoor and wildlife enthusiasts and future generations," the NB Ewes bring awareness to our community of the role that sportsmen and women play in wildlife conservation through educational and humanitarian projects.
Dedication, Commitment, Diligence, Hard Work, Service, Hands-on Volunteerism
What are you waiting for?